Each month Used.ca sponsors community events here on Vancouver Island and this month Spring has sprung with some super fun local events! We hope you'll join us at the following events we're proudly supporting:
1.) Relove Market – April 8-9
2.) Spring Go By Bike Week – May 29 – June 4
3.) Kaleidoscope Theatre presents OZ – March 30 – April 9
4. ) Ballet Victoria presents Peter Pan – May 4-5
5.) Belfry Theatre presents Old Stock: A Refugee Love Story – April 18 – March 14
6.) Victoria Conservatory of Music Mother's Day Musical Garden Tour – May 13-14
7.) Broadmead Care's Shred-a-thon – April 29 
8.) Joseph and the Amazing Technicolor Dreamcoat – April 21-29
9.) YBN Night at the Riviera Charity Casino Night – April 14
10.) TC10K – April 30
11.) Victoria Symphony's Spectacular Spring Gala – May 5
12.) MS Walk – May 28
13.) Bacon, Bourbon and Beer Festival – June 24
14.) Eves of Destruction 2023 Roller Derby Season
15.) Victoria Beer Week – May 5-13
16.) Vintage, Retro & Collectibles Show/Sale – April 9
17.) Victoria Symphony presents The Doo Wop Project – May 6-7
18.) Raymond James Father's Day Walk/Run for Prostate Cancer – June 18, 2023
19.) Victoria Hospice Hike for Hospice – May 7
20.) Incoming Festival – April 21 – May 14
21.) Rim-to-Rim: Canada's Senior National Women's Basketball Team – June 2
The Relove Market – April 8-9 
The ReLove Market is an empowering fashion community dedicated to the pursuit of personal expression balanced with environmental sustainability.  We bring local curators and fashion enthusiasts together in a welcoming, inspiring and creative in-person forum to share ideas and textiles! 
Join us for the finest in secondhand & vintage clothing April 8 & 9 from 12-6:30pm at 650 View St (across from The Bay Centre).  And don't forget your reusable shopper for all your fabulous finds.  Be sure to tag your snaps from the day with @therelovemarket & #relovegeneration   
Vendor Applications Open 
www.relovegeneration.com/apply 
Greater Victoria Spring Go By Bike Week – May 29 – June 4
Join thousands of cyclists in Greater Victoria for Spring Go By Bike Week (May 29 – June 4)! 
Go By Bike Week is a 100% FREE tri-annual event encouraging everyone to try cycling for the week! Cycling is proven to improve happiness and productivity, as well as both mental and physical health! With gas prices on the rise, there is no better time to leave the car at home. Not to mention, it's super fun! 
Aside from personal benefits, Capital Bike organizes Celebration Stations along popular cycling routes, runs challenges, and offers hundreds of prizes. 
Register at GoByBikeBC.ca! If you've registered before, just log back in! 
More info available at CapitalBike.ca/go-by-bike-week/ 
Kaleidoscope Theatre presents OZ – March 30 – April 9
Journey down the yellow brick road with Oz, an enchanting new play from Victoria's Kaleidoscope Theatre and Vancouver's Carousel Theatre for Young People! Join legendary author L. Frank Baum and a feisty young girl named Dot as they bring the Land of Oz to life. This magical new production for kids and their grown-ups celebrates creativity, imagination, and the power of storytelling. As Baum and Dot work together, we're reminded that the real wizard behind the curtain is often our own imaginations. Featuring a talented cast, stunning design, and a heartwarming story that will delight audiences of all ages, Oz is a can't-miss production that will inspire and entertain you from start to finish. Join us from March 30 through April 9 for a trip over the rainbow that you won't forget. Get your tickets now at kaleidoscope.bc.ca and experience the magic of Oz for yourself! 
Ballet Victoria Presents Peter Pan – May 4-5
VENUE: Royal Theatre, 805 Broughton Street 
DATES: 
Thursday, May 4 at 7:30PM 
Friday, May 5 at 7:30PM 
BV presents a contemporary twist on J. M. Barrie's classic tale of the fearless boy who refuses to grow up. Join the Darling family on their journey to Neverland, where they encounter mesmerizing mermaids, fanciful fairies, pillaging pirates, and much more! An adventure for the whole family. 
Buy tickets here. 
Belfry Theatre presents Old Stock: A Refugee Love Story – April 18 – March 14
A musical by Ben Caplan, Christian Barry, and Hannah Moscovitch 
★★★★★"a thing of raw and unmissable beauty." HERALD SCOTLAND 
Old Stock: A Refugee Love Story is a tender and delicate tale woven inside a high-energy concert led by the boisterous international Klezmer sensation, Ben Caplan. This musical played for one week during our 2019 SPARK Festival—and that was simply not enough for a show as astounding as this! 
A truly original, captivating, wise and glorious exploration of human resilience and survival. Inspired by the true story of Hannah Moscovitch's great-grandparents, this triumphant musical has toured internationally, garnering awards across Canada, Australia, and the UK. 
Pay-what-you-want tickets are available at tickets.belfry.bc.ca or 250-385-6815 
Victoria Conservatory of Music Mother's Day Musical Garden Tour – May 13-14

Join us for this beloved community event celebrating mothers, music, and our rich garden culture right here in the city of gardens. Now in its 41st year, we feature eight springtime garden gems from all over Greater Victoria. Each one unique and sure to inspire. 
Two-day passes are $40 (plus service charges where applicable) and include exclusive access to each garden and to our plant sale! 
It's a great way to celebrate Mother's Day while supporting the VCM's efforts to keep music education, performance, and wellness thriving in Victoria. Purchase tickets here. 
Broadmead Care's Shred-a-thon – April 2
9
On Saturday, April 29th, pack up your paper documents and watch them get shredded at Broadmead Care's Shred-a-Thon! With the support of Best Shredding, a professional mobile shredding truck will be on site to safely shred your confidential or unwanted paper documents. It's the perfect task to add to your spring cleaning to-do list! You can even pre-pay for your shredding making your trip quicker than ever! The event will take place in the lower parking lot of Veterans Memorial Lodge 4579 Chatterton Way, Victoria BC from 9:00 AM – 1:00 PM. Suggested contribution $10 / box.  
This event is an important fundraiser for Nigel House, a Broadmead Care Home. Funds raised will help the residents of Nigel House access companion services in our community. Learn more or donate to Nigel House online at www.BroadmeadCare.com/Shred-a-Thon 
Joseph and the Amazing Technicolor Dreamcoat – April 21-29
It's time to GO GO GO see the Canadian College of Performing Arts' Joseph And The Amazing Technicolor Dreamcoat! A harrowed Joseph journeys through Egyptian dreamlands to an unforgettable array of musical styles – trust me, they'll be stuck in your head for weeks! Come see the show that reinvented the modern musical, on stage at the McPherson Playhouse April 21-29. Tickets are available now at www.rmts.bc.ca 
YBN Night at the Riviera Charity Casino Night – April 14
VICA's Young Builders Network is hosting the much-anticipated CHARITY CASINO event in Support of Help Fill A Dream!!!
Join us for a "Night on The Riviera", a Mediterranean Casino Cruise
All proceeds from this event will go to Help Fill a Dream which is a local charity that helps families with children who have chronic and/or terminal illnesses. All things considered the construction industry has been fortunate this past couple years and Help Fill a Dream is in very much need of our help.
We are looking for interested companies who would like to participate and/or sponsor. The evening will be filled with incredible Live Music, Tapas, Casino Games and of course many industry friends.
Tickets are limited and we expect them to sell out very quickly given that we are piggybacking on the VICA Construction Conference this year. You can purchase your tickets by clicking here.
TC10K – April 30
Join thousands of runners in the 2023 TC10K and push your limits. Whether you're a seasoned pro or new to running, this 10K race is a great opportunity to challenge yourself. The scenic course takes you through Victoria's Inner Harbour and historic neighborhoods, with cheering crowds along the way. Sign up now and be part of this empowering and exciting community event. With training support and a community of runners to motivate you, you'll be crossing that finish line in no time. Register here! 
Victoria Symphony's Spectacular Spring Gala – May 5
Gala Chairs Tom & Terri Siemens have the pleasure of inviting you to a special fundraising event Spectacular Spring Gala • Featuring Tenor Josh Lovell.  All proceeds benefit the VS and our Youth Education Programs.
Friday, May 5, 2023  – Crystal Ballroom Fairmont Empress
Champagne Reception: 6pm
Dinner and Entertainment: 7pm
Join us for an elegant and fun-filled evening with a champagne reception, gourmet food, fine wines, seated dinner, plus exclusive entertainment with Christian Kluxen, Sean O'Loughlin, Giuseppe Pietraroia and our wonderful orchestra, an online auction, and more!
Tickets $350 PP • Music Champion $675 PP* (*includes ticket and special recognition)
Purchase tickets or make a gift online at victoriasymphony.ca/gala  Black tie preferred • Generous tax receipt is provided. RSVP by May 1
MS Walk – May 28

Let's celebrate the power of the MS community at the 2023 Victoria MS Walk on Sunday May 28th at Cadboro-Gyro Park, with opening ceremonies at 10:00 am. 
Choose to walk either a 2km or 5km route. We're excited to see you! The event is free to join! Visit MSWALKS.CA or Register Now! 
Canada has one of the highest rates of MS in the world, with an estimated 90,000 Canadians living with the disease. This May, across Canada, Canadians come together again to walk, connect, and show that no person living with multiple sclerosis is alone. Register for MS Walk today as we walk toward a world free of MS. Your participation and fundraising move us closer to a world free of MS! 
Fundraise to make lives better for people living with MS. Register for MS Walk today as we walk toward living in a world free of MS. 
Bacon, Beer and Bourbon Festival – June 24
Inspired by unique pairings between chefs and mixologists, Bacon, Beer, and Bourbon celebrates the best seasonal beers, bourbon cocktails, and the smells and tastes of pork-forward chefs' creations. The Festival focuses on bold rich flavours that elevate any guest's BBQ season in an ode to the sun gods.
This Festival is an adult fair. Walk into the Festival, and you will receive a welcome cocktail or beer and a complimentary piece of Hertel's Bacon. Wander through the Festival vendors, and indulge in the bold, rich flavors our creative chefs and beverage vendors have to offer. Make sure to show your competitive side in one of our oversized lawn games, or take a vote for your favorite creations from the array of chefs and mixologists. General and VIP tickets available – buy yours here
Eves of Destruction Roller Derby 2023 Season
This will be our first full season back to normal since the pandemic, and our league has been working incredibly hard to continue to bring high level roller derby to our fans here in Victoria. We are a non-profit league run by the skaters and supported by volunteers and fans. Our league is comprised of six teams: our juniors, the Rotten Apples; our rookie team, the Hard Cores; our three house teams: the Margarita Villains, the Belles of the Brawl, and the Daisy Pushers; and finally our WFTDA charter team, The A Team. 
Our second annual Capital City Chaos tournament, will run on April 8, featuring our A Team and Greater Vancouver and Saskatoon Roller Derby at Archie Browning Sports Centre in Esquimalt. It was a smash hit as our first WFTDA tournament in 2019, and we are thrilled to be able to bring it back this year. Double headers will follow each month at Archie Browning: on May 6, June 10, July 6, and finally wrapping up on August 19th with our infamous house team battle for the Calamity Cup. 
Buy tickets here. If you want to connect with us on social media we are @eodrollerderby on Facebook, Instagram, and TikTok.
Victoria Beer Week – May 5-13
Victoria Beer Week returns May 5 – 13, 2023, showcasing BC craft breweries in unique event settings all across Greater Victoria. VBW 2023 will feature 40 BC craft breweries at fun new events throughout the city. Join us for the launch event Lift Off or a groovy '70s sour beer disco party, Sour Power. Treat your taste buds with Beer & Pizza or Dubbel Down, a Belgian inspired night of beer and cuisine from the Victoria Public Market. Celebrate hops from southern hemisphere at Down Unda and try out the best brews in BC at the finale event Touchdown! Whether you're an aspiring Cicerone, or simply want to celebrate the province's bounty of craft beer, Victoria Beer Week has an experience brewing just for you. Tickets are on sale now at victoriabeersociety.com 
Vintage, Retro & Collectibles Show/Sale – April 9
As time travel is currently not an option, the next best thing is to transport yourself and your family and friends to the Vintage, Retro & Collectible Show/Sale at the Mary Winspear Centre, Beacon Avenue, Sidney-by-the-Sea on Easter Sunday! 
This major event is always a mix of very interesting stuff!! Pre/post war jewelry, magazines, maps, stamps, comic books, postcards and collector cards. Toys: dinky cars, meccano, mechanical, 70's video games. Tableware and an assortment of carefully used books. Tools, repurposed vintage phones, cameras, coins and notes….all sorts of collectibles. 50/60's vintage clothes, bags, shoes and collectibles; repurposed furniture and fabulous lamps and collectibles. Exotic Thai and Japanese pieces and more local First Nations collectibles. 
General entrance: 9:30 am $5. Earlybirds: 8:30/9:30 am $20. Children under 15 free with an adult. Show closes at 4pm. Refreshments available all day provided  by Island Culinary Services.
Victoria Symphony Presents The Doo Wop Project – May 6-7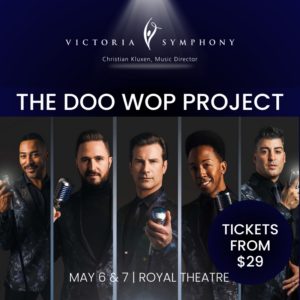 May 6 & 7 | Royal Theatre
Tickets from $29
Nothing sets bodies swaying or toes tapping quite like the classic sounds of Frankie Valli, The Drifters, and artists of the Doo Wop era. In this playful project, VS Principal Pops Conductor Sean O'Loughlin leads audiences on a journey that starts with its humble origins – and leaps forward in time to imagine how modern hits might sound, given the same treatment. Featuring stars of Broadway smash hits Jersey Boys and Motown: The Musical, The Doo Wop Project revisits and recreates some of the greatest music in pop and rock history! Buy tickets here.
Raymond James Father's Day Walk/Run for Prostate Cancer – June 18
The Raymond James Father's Day Walk/Run for Prostate Cancer is a family friendly 3k or 5k walk or run in support of Island Prostate Centre, held on Father's Day, June 18, 2023. We are excited to celebrate 20 years of running and walking to support local patients and their families! Since the first event in 2003, over 6000 participants have raised over $1.2 million for Island Prostate Centre.
Join team or participate as an individual and enjoy a safe, quiet route through the Vancouver Island Technology Park and surrounding trails. Register here.
Victoria Hospice Hike for Hospice – May 7
Hike for Hospice is back! Join us for our annual in-person walk on Sunday, May 7, 2023.
Gather a team of friends and family, challenge your co-workers or join as an individual to help support end-of-life care in your community.
Everyone is welcome! Bring along your four-legged friend for your chance to win the "Best Dressed Dog" award.
Check-in and entertainment starts at 9:00 a.m and the walk begins at 10:00 a.m. The scenic 3.5 km loop will take us from Fisherman's Wharf Park on the harbor, to the ocean and back again. The route is accessible for all ages and abilities making it a great way to come together in support of hospice care in our community. Register Today!
Don't forget to buy your 50/50 raffle tickets! This year's jackpot is anticipated at $10,000 with half going to the winner. For more information and to buy tickets visit https://victoriahospice.rafflenexus.com/
Incoming Festival – April 21 – May 14
Incoming Festival is the newest festival from Intrepid Theatre, featuring an eclectic and electric programming of brand new work from artists from across the country and right here at home. There's theatre, dance, cabaret, audio installations and free workshops at venues across downtown. It's a festival of premieres – world premieres, BC premieres, and Victoria premieres! Try something new, and join us at Intrepid Theatre this spring for 10 brand new shows over 4 weeks. Tickets from just $10.
Rim-to-Rim: Canada's Senior Women's National Basketball Team – June 2
Canada's Senior Women's National Team is set to host an exciting exhibition game against Japan on June 2, 2023, at the Save-On-Foods Memorial Centre in Victoria, British Columbia. The game, known as Rim-to-Rim, will celebrate the Pacific Rim nations and mark the beginning of Canada's journey to the Paris Olympics 2024.
Tickets will be available for purchase from April 21 at 10:00 a.m. PT via https://selectyourtickets.com/event-pro/rim2rim-2023-canada-vs-japan/.
The Senior Women's National Team is currently ranked fifth in the FIBA World Ranking Women and will be participating in the upcoming FIBA Women's AmeriCup 2023 in León, Guanajuato, Mexico. The team is coming off a fourth-place finish at the FIBA Women's Basketball World Cup 2022, their best finish since 1986.
Rim-to-Rim will be the first time in over 20 years that Canada's Senior Women's National Team has played in Victoria, making it a must-see event for basketball fans.
We hope you have fun at these wonderful, local events this Spring! If you'd like Used.ca to be a sponsor of your event on Vancouver Island, please contact our Community Manager, Carly.